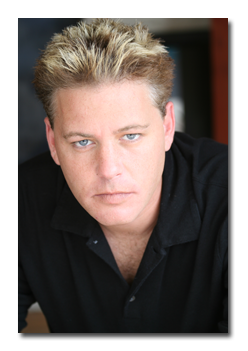 Photo by: Deidhra Fahey

Corey Ian Haim was born on December 23, 1971, to Julia and Bernie Haim, in Toronto, Ontario, Canada. He has one older sister, Cari. A couple of his interests as a child included creating music on his keyboards and playing ice hockey. In fact, he was considering becoming a professional hockey player when, through an twist of fate, he was bitten by the acting bug while attending an audition with his sister.

In 1982, Corey scored a gig with a Canadian television series, "The Edison Twins." By 1984, young Corey had made his way to Los Angeles with the American film, FIRST BORN, co-starring Teri Garr and Peter Weller. Just a year later, Corey was slated for four more films!

It was in 1986 when he won hearts - and a rave review from Roger Ebert - for his role as the lovable title character in LUCAS: "He creates one of the most three-dimensional, complicated, interesting characters of any age in any recent movie. If he can continue to act this well, he will never become a half-forgotten child star, but will continue to grow into an important actor. He is that good" - Ebert.

Corey's charisma and talent then caught the eye of the acclaimed director, Joel Schumacher, which led to Corey's pivotal role in THE LOST BOYS.

After THE LOST BOYS, Corey also starred in LICENSE TO DRIVE and DREAM A LITTLE DREAM. During this time, Corey also made his production debut as executive producer of the films DEMOLITION HIGH and DEMOLITION UNIVERSITY and associate producer of FAST GETAWAY and LIFE 101.

When COREY isn't busy filming, he enjoys: participating in billiards, snowboarding, frisbee and other fun outdoor athletics like baseball, tennis and golf, and acrylic painting. He won first place in the LAPD Golf Tournament in 2000.

COREY's commentary can be seen on the dvd releases of LICENSE TO DRIVE Special Edition (2005) and THE LOST BOYS Special Edition (2004).

The two seasons of COREY's comedy/drama/scripted reality TV show (which he developed, wrote, part-owned, executive produced, and starred in) premiered on the A & E Network in 2007. The film CRANK 2: HIGH VOLTAGE came to theaters in April 2009, in which Corey co-stars as "Randy".

On March 10, 2010, COREY died of natural causes, which included diffuse alveolar damage (from respiratory distress), pneumonia and hypertrophic cardiomyopathy (thickening of the heart muscle) with coronary arteriosclerosis. The toxicology report revealed no significant contributing factors.

COREY's last movie, DECISIONS, will be released on DVD on November 1, 2011.