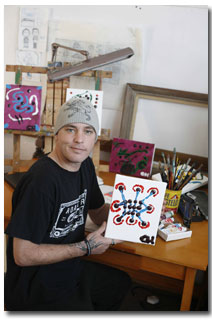 January 13, 2013 -- Want to buy art prints and greeting cards of COREY's artwork? Now you can at Fine Art America!

January 8, 2009 -- Want to see more of COREY's artwork? Check it out in the new gallery!

When COREY isn't busy filming, one of the things that he enjoys most is painting! Already an accomplished artist, COREY currently has seven pieces of his artwork displayed in museums in Sweden, Switzerland, and Germany. In fact, he recently sold one of his paintings in Bruges, Belgium, for $7,400!

Much like COREY's favorite painter, Pablo Picasso, his style is very unique. Using a thick texturing of acrylic paints on canvas and his gift for intuition, COREY can create an abstract visual that is very pleasing to the eye!